Woohoo – How Fun & Yummy is This!
"My Upper One Instrumental Music class recently completed a class challenge. After using Breezin' Thru Theory to practice (especially the SMART Board game), all members of the class can now write out the Circle of Fifths in less than 2 minutes. The fastest time was achieved by Ashley Khun who can complete it in less than 20 seconds. To celebrate the success of the class, Ashley and Kennedy Bailey baked the Circle of Fifths in cupcakes!"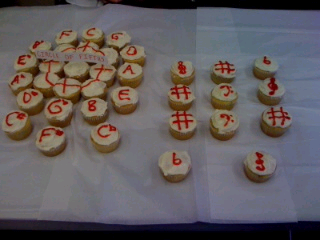 -Donna Dupuy,
Music Teacher
Appleby College School
Oakville
Woohoo Ashley – you sure are breezin' thru!