Jean McKen's original composition "I Am Song, Je Suis Chanson" has been judged the winning submission in the prestigious song contest organized by CMEA/ACME to celebrate the organization's 50th anniversary.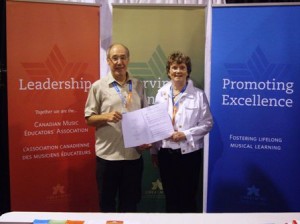 CMEA/ACME President Ed Wasiak congratulates Jean McKen
The song was premiered and sung by all teachers at the 2009 OMEA Con Brio Conference in November.
The lyrics can be viewed here.
Listen to the SSA version of the song featuring soloist Heather Bambrick and a choir of music educators. Hear now.
Watch video of full orchestra arrangement .
Play now
SSA, SAB, and Unison versions of the song are available for sale to schools. The cost of I Am Song is $1.50 per octavo with a minimum purchase of 10 copies. To place an order contact Jean McKen by phone at 416-476-8014 or email jmcken@breezinthrutheory.com to Buy now.
Jean McKen is donating all proceeds from the sale of the song to CMEA/ACME to create a special scholarship for young musicians.    Jean says that when she was a child, it was clear that music was her calling but her family could not afford music education for her (a good instrument and lessons). Fortunately someone outside her family came through with support while she was in high school. Jean hopes that scholarships may help open up the world of music to other children in need.
---
SCHOLARSHIP FUND (Proceeds to date): $2419.50
---
"I AM SONG" Showcase Performances
April 7, 2010: Halton Music Showcase; The Great Hall, Hamilton Place
April 18, 2010: Conference of Independent Schools Music Festival; Roy Thompson Hall, Toronto
May 3, 2010: Peel Music Showcase on "Music Monday"; Living Arts Centre; Mississauga
May 18, 2010: Appleby College "Annual Arts Day"; Appleby College, Oakville
June 18, 2010: Matthews Hall Graduation Ceremony; St. Paul's Cathedral, London
June 18, 2010: 'Greenwood Day 2010' Celebration; Greenwood College Vocal Ensemble; Toronto Convention Centre
November 23 & 24, 2010: '11th Annual Kids Choir' ; The Children of St. Martha Elementary School & the Lethbridge Symphony Orchestra; Southminster United Church, Lethbridge, Alberta
June 16, 2011: St. Clement's Closing Ceremonies; Massey Hall, Toronto
June 18, 2011: Albert College Baccalaureate Service; Albert College, Toronto
June 25, 2011: Opening Ceremony of The Asian Community Games; Yip's School Elementary Choir; York University, Toronto
August 12, 2011: Southern Alberta Vocal Experience; Teen Program Concert Finale; University of Lethbridge, Alberta
OTHER Performances & Donations
Whitehorse Elementary School; Whitehorse, Yukon
Coboconk Ridgewood Public School; Coboconk, Ontario
Britannia Public School; Mississauga, Ontario
Donation by Heather Bambrick
Toronto French School; Mississauga Campus, Ontario
Montcrest School; Toronto, Ontario
Kempenfelt Bay School; Barrie, Ontario
Albert College; Belleville, Ontario
Bayview Glen School; Toronto, Ontario
The York School; Toronto, Ontario
St. Clement's School; Toronto, Ontario
Trafalgar Castle School; Whitby, Ontario
Lakefield College School; Lakefield, Ontario
The Country Day School; King, Ontario
Pickering College; Newmarket, Ontario
Kingsway College School; Etobicoke, Ontario
Havergal College; Toronto, Ontario
Hawthorn School for Girls; North York, Ontario
Holy Trinity School; Richmond Hill, Ontario
Donation by Lisa Landrey
Donation by Claire Lavoie
Donation by Heather Brady
Donation by Andrea Miller
Donation by Louise Buldoc
Donation by Marg Walsh
Crescent School; Toronto, Ontario
Aurora United Church; Aurora, Ontario
Donation in Memory of Michael Fridella