Breezin' Thru Theory is a complete curriculum that covers Grades 4-12, and is aligned to National, State and Provincial Standards. It also helps in the preparation for Royal Conservatory of Music theory exams and AP Music 1.
Supports Curriculum Goals
See How Breezin' Thru Theory Supports Curriculum Goals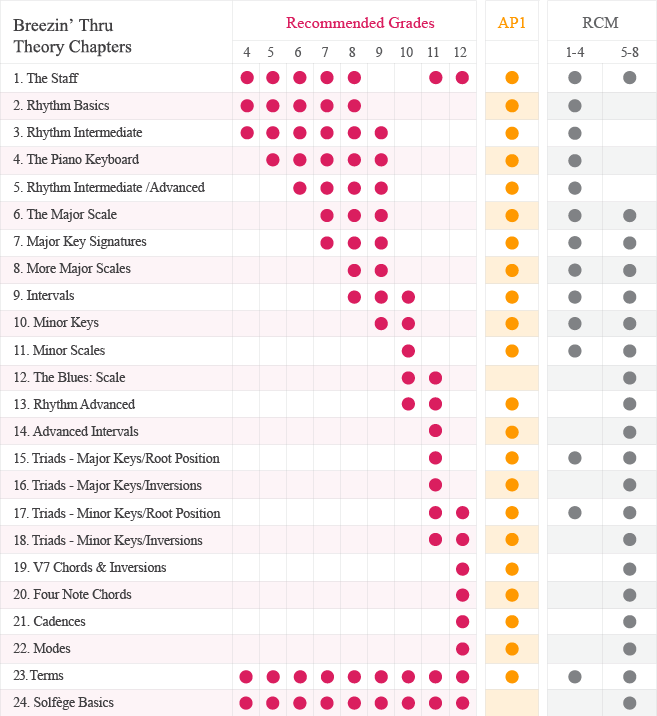 Curriculum Maps also available for specific regions in the US and Canada.
This chart guides teacher planning and shows how Breezin' Thru® Theory supports music education goals. And your dashboard has other great Planning Tools too.
** Chapter 1 also includes Breezin' Thru Fingerings.

Supports Diverse
Learning Styles
Breezin' Thru Theory uses the latest 21st Century technology in a thoughtful way to help engage kids so they can quickly master musical concepts.
Use any strategy that fits your students' needs. Whether it's differentiated learning, blended learning, flipped classroom or independent learning, the scaffolded content will leave no gaps in understanding and the creative/musical activities will provide meaningful connections to the real world!
1. Lesson Planner
Kids shouldn't have all the fun! There's a cool

interactive tool

for teachers to plan your term & classes.
Select the chapter lessons, drill, games and tunes that you want.
Use the curriculum map to see what's appropriate for each grade level

Assignments

with due dates are posted directly to student accounts, in their cool new "My assignments" page!
Instantly see who has (or hasn't) done their assignments. Get late submission reports and updates too.
Presto you're done … even get a printed copy if you'd like!
2. Implementation Tips
Check out tips on how other teachers weave Breezin' Thru into their classroom routines with

great success

.
See something that can work for you? Go ahead & give it a spin!
3. Extra Tests
Your dashboard has all kinds of great student tracking and assessment.
But if you're looking for more … there are printable Summative Tests for each chapter (1 pagers) plus Pre/Post Diagnostic tests.