WORKSHOP # 1: BREEZIN' THRU THEORY
NEW Auto-Assessed Music Theory Online: Easy to Use, Fun to Do!
Let Breezin' teach the theory so you can spend more class time making music! Breezin' Thru Theory's new Auto Assessment Student Tracker gets measurable results, saves you marking, and makes it fun.
Hear about the phenomenal results teachers get and the student engagement as they race against themselves and the clock to build mastery. Perfect for grades 5-12 and AP prep. Its online access makes it a breeze to do at home or school – nothing to set-up or install.


Thursday February 13, 2014
2:30-3:30 pm (Room CC 203)
TMEA 2014 Clinic/Convention
San Antonio, Texas
Texas Music Educators Association
_______________________________________________________
WORKSHOP # 2: BREEZIN' THRU COMPOSING
Cool New Composition Lessons App for the iPad & More!
Bring the thrill of making music to your students with NEW Breezin' Thru Composing. Fun interactive lessons get students listening/ analyzing as they prepare to compose music using notation or sequencing tools.
Each lesson combines a compositional concept, a theory link, and historical or cultural points to help you meet important curriculum standards.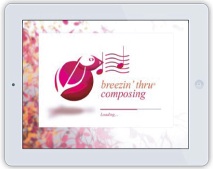 Friday February 14, 2014
10-11 am(Room CC 203)
TMEA 2014 Clinic/Convention
San Antonio, Texas
---
BOOTH
Drop by our Booth #318 and try out the cool tools!