Breezin' Thru Theory is now EVEN MORE fun and flexible, and saves even more time. Woohoo!
E-Binder: New Interactive Mad Dash Drills
Now packed with even more great features!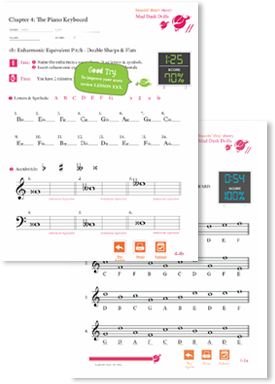 Key Features:
Interactive drills right in the e-binder – over 200 drills to choose from!
2 Minute timer – race against the clock, build your rapid response!
Auto scoring – instant feedback, no more time spent marking!
Fun music & animation
Student Tracking– downloadable teacher report of student scores/time
Perfect in School or at Home – you can assign work to students outside of class time and delight in how it improves their performances!
Go Green! Save $ and environment.
Choose Your Plan & Pricing
NEW FOR 2012 – Check out our flexible new payment plans. Whether you're a classroom teacher, homeschooler or have a Private Music Studio, Breezin' Thru Theory has a plan for you.
We'll get you breezin' thru in the way that works best for you.
Choose Your Plan