Breezin' Thru Theory has all the resources a teacher needs – all in one place. And students get to learn and interact the way they want to, using cool tools!
Annual Subscription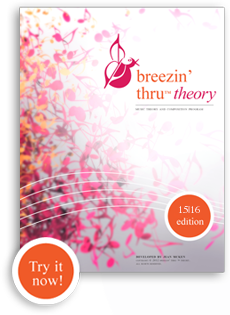 E-binder
Interactive E-binder, covering 27 chapters.
Over 200+ Interactive Drills (with auto-marking), 15 Composition activities, 'See It-Hear it' lessons for every concept, and Summative tests
Everything is printable
Accessed thru Breezin' website
Annual subscription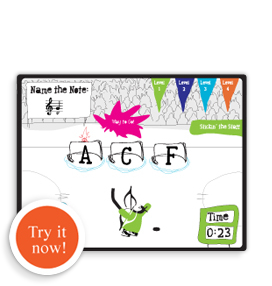 Interactive Games
Supports lessons in E-binder
Builds rapid response
The Staff, Rhythm, Intervals, Triads
NEW: Interactive Piano to support compositions & hearing concepts
Part of subscription
One-Time Purchase
SMART Board Teacher's Companion
Our e-Binder and Interactive games work brilliantly on any Interactive Whiteboard. However if you have a SMART Board, our new teacher's companion option will really bring it to life!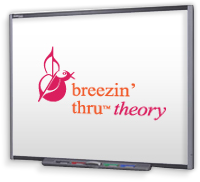 Makes classroom learning even more fun & engaging!
The Basic Fundamentals (first 7 chapters)
Use with subscription or on its own
Format: DVD
Special Bundle Offer
NEW Breezin' Thru Composing app
Cool interactive composition lessons app for use on any device … iPad/tablets, computers, chromebooks, or smart phones!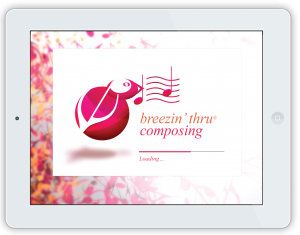 Fun, ready-to-go-lessons & activities for grades 5-12
Links theory to the thrill of making music
Engages students at home & at school
Can be used with notation & sequencing software